PON technology should be one of the most common broadband access methods at present. Considering the construction cost and later maintenance cost, more and more national operators adopt PON technology to provide users with broadband access. So what is PON? PON is the abbreviation of English Passive Optical Network.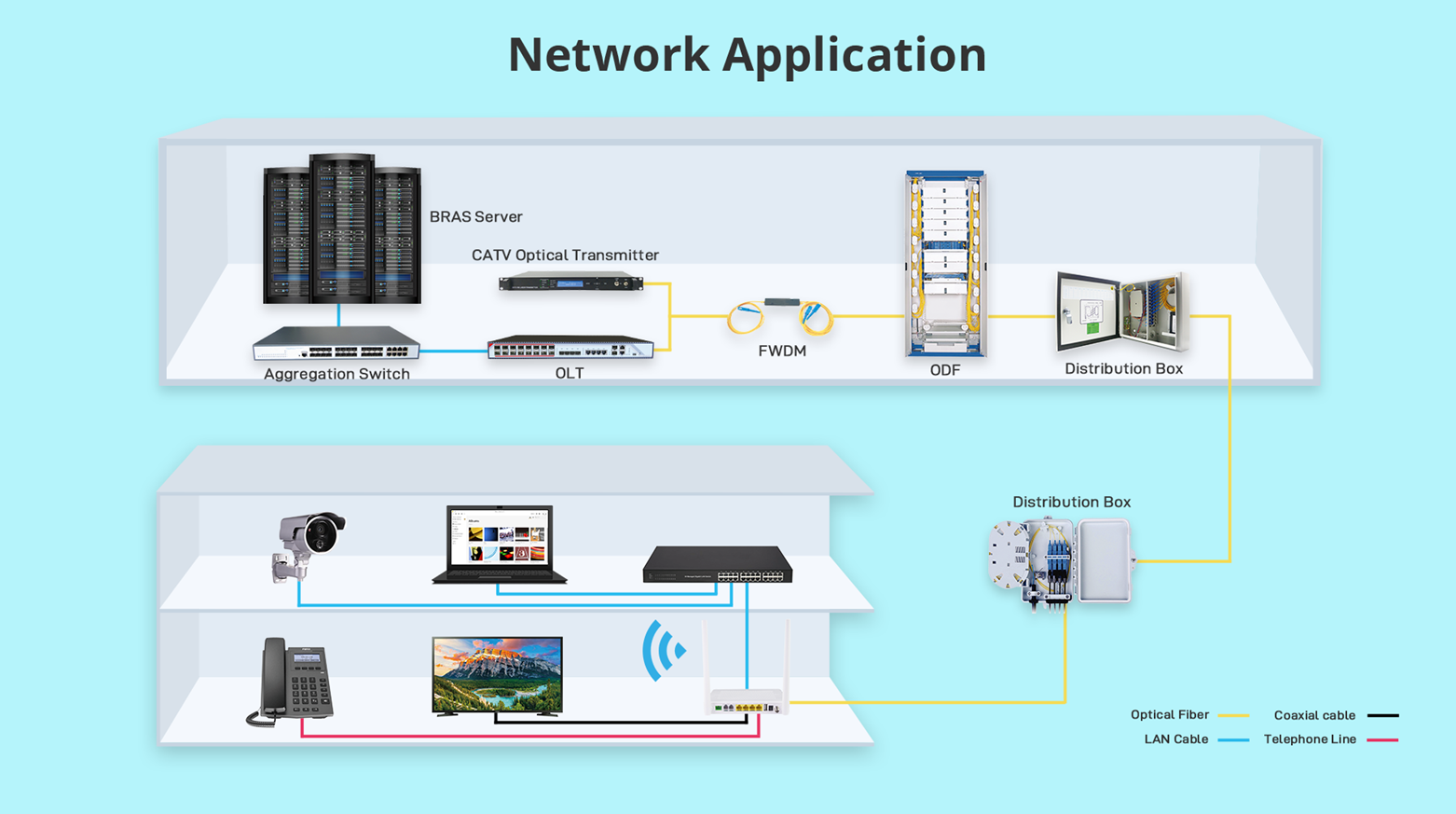 Its main advantages can be summarized as follows
1. Multi-service bearer.
It can meet the transmission of various services such as voice calls, TV (IPTV), broadband Internet access, and dedicated data lines.
2. Flexible bandwidth.
It can provide refined and flexible bandwidth allocation and a manageable and controllable mechanism to provide various flexible bandwidths ranging from a few K to 10G. The current mainstream broadband is 100M, and Gigabit is being promoted. In fact, 10 Gigabit can already be provided. The 10 Gigabit PON network has also matured, but it is not yet commercially available.
3. The line is passive.
The transmission distance can reach more than 20 kilometers, and the middle is optical cable, optical splitter, etc., which can be transmitted without power supply, which can greatly reduce the number of office points, which is more than 10 times the access distance of the original ADSL technology, that is to say, the passive optical network Optical splitters do not require power.
4. Save line resources.
A single-core optical cable can carry more than 32 users and can carry more than 256 services. If a phone can even carry 32*256 telephone services or even more. And only occupy one core backbone optical cable.
5. It can be upgraded smoothly.
The upgrade process of 100M, 1000M and 10000M can be upgraded smoothly.
6. Network isolation is efficient and safe.
It can provide efficient transmission bandwidth, isolate each other, manage and control the network, and be safe and efficient.
7. The price is cheaper.
The cost per M bandwidth of PON access technology is less than 1/100 of the original copper wire access, or even lower, so this is why it is so common. Many customers have asked, what is the difference between EPON and GPON? In response to this problem, we summarize the content for your reference
PON (Passive Optical Network) is a point-to-multipoint passive optical fiber access technology that originated in the 1990s.
The same points of EPON and GPON
They are all access technologies evolved from PON technology. The network structure is the same, all OLT + optical splitter + user ONU equipment are connected together through optical fibers, and can carry various services mentioned above.
The difference between EPON and GPON
1. Different protocols
GPON is based on the combination of ATM technology + ITU-T transmission technology and PON technology. EPON is based on the combination of Ethernet technology and PON technology, which is based on the IEEE series of protocols.
2. Different technical complexity
GPON can effectively support data packets and TDM streams in the original format, that is to say, it retains the traditional characteristics of ATM and the transmission of TDM data streams in the telecommunications transmission network, so the technical implementation is more complicated, and conversion into Ethernet packets requires protocol conversion. Technology is complicated. EPON adopts the Ethernet protocol. The advantages include mature protocol, simple technology, easy expansion, user-oriented, etc. It is very suitable for the current IP traffic and realizes simple and efficient. That is, data transmission is efficient and simple.
3. The basic communication principles used are different
The solution of Gpon's ATM and Epon's Ethernet, in the development of communication network technology, ATM network card and Ethernet had a technical debate for a period of time, history has proved that ATM technology is basically eliminated, Ethernet occupies an absolute advantage , so the development of communication is simple and efficient.
4. Different prices
The implementation complexity of GPON is high, and the price is higher than that of EPON. The cost of GPON equipment is more than 40% higher than that of EPON equipment. Until now, the price of chipset is still much higher than that of EPON.
5. Different bandwidth
The EPON system adopts uplink and downlink symmetrical transmission, the link bandwidth is 1.25G, and the uplink and downlink effective data bandwidth is 1G. EPON can provide users with a bandwidth below 1000M.
The GPON system adopts uplink and downlink asymmetric transmission, the uplink bandwidth is 1G, and the downlink effective data bandwidth is 2.46G. GPON can provide users with a bandwidth below 1000M.
Today, when network users generally speed up to over 100M, the user experience is basically the same in the case of the same 1:32.
In general, upgrading EPON technology from Gigabit to 10 Gigabit, and upgrading to 10G EPON is very simple, efficient, and low-cost, while upgrading GPON technology from Gigabit to 10 Gigabit, upgrading to XGPON is complex, and the cost of the required components is high. Many, if the original network users are kept below Gigabit and a small number of users are upgraded to 10 Gigabit, the advantages of EPON are particularly obvious. At present, Sopto Technology can provide its own brand GPON OLT and EPON OLT, including 4 ports, 8 ports, 16 ports OLT, and a single device can carry up to 1024 users. If you want to know more product specifications, you can contact us at any time, [email protected]
Tags : gpon,epon,olt,passive optical network
— END —