Product Features
● XFI Loopback Mode
● Duplex LC Interface
● Low Power dissipation
● Hot-pluggable XFP footprint
● Built-in digital diagnostic functions
● DFB or Temperature-stabilized EML Transmitter
● IEC 60825-1 Class 1/CDRH Class 1 laser eye safety.
● Supports Multi Protocol 8.5Gb/s, 9.95Gb/s to 11.3Gb/s bit rates
● Transmission distance up to 300m on MMF OM3 and 120km over SMF
● Superior Thermal and EMI integrity performance to support high port densities
● LC Duplex optical connector interface conforming to ANSI TIA/EIA604-10 (FOCIS 10)
● Operating Case Temperature: Standard: 0~70°C; Extended: -20~85°C; Industrial: -40~85°C
Compliant
● RoHS-6
● 1G/10G Ethernet compliance,Compliant with IEEE 802.3ae 10GBASE
Sopto fiber optic transceiver took the first lead to pass the ISO9001 quality system, the requirements of European CE, RoHs

Digital Diagnostic Functions
As defined by the XFP MSA 1, Sopto's XFP transceivers provide digital diagnostic functions via a 2-wire serial interface, which allows real-time access to the following operating parameters:
● Transceiver temperature
● Laser bias current
● Transmitted optical power
● Received optical power
● Transceiver supply voltage
It also provides a sophisticated system of alarm and warning flags, which may be used to alert end-users when particular operating parameters are outside of a factory-set normal range.
The operating and diagnostics information is monitored and reported by a Digital Diagnostics Transceiver Controller (DDTC) inside the transceiver, which is accessed through the 2-wire serial interface. When the serial protocol is activated, the serial clock signal (SCL pin) is generated by the host. The positive edge clocks data into the XFP transceiver into those segments of its memory map that are not write-protected. The negative edge clocks data from the XFP transceiver. The serial data signal (SDA pin) is bi-directional for serial data transfer. The host uses SDA in conjunction with SCL to mark the start and end of serial protocol activation. The memories are organized as a series of 8-bit data words that can be addressed individually or sequentially. The 2-wire serial interface provides sequential or random access to the 8 bit parameters, addressed from 000h to the maximum address of the memory.
For more detailed information including memory map definitions, please see the XFP MSA Specification.
Recommended Host Board Power Supply Circuit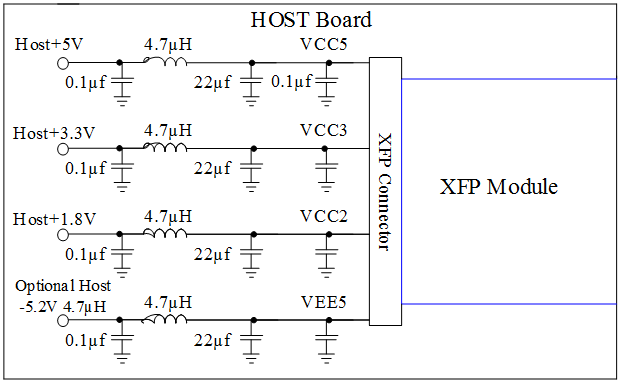 Recommended High-speed Interface Circuit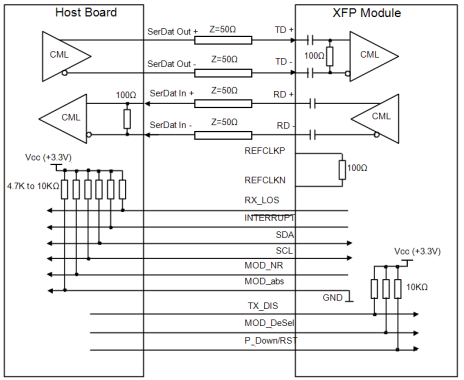 Mechanical Specifications
XFP transceivers are compliant with the dimensions defined by the XFP Multi-Sourcing Agreement (MSA).
Unit:(mm)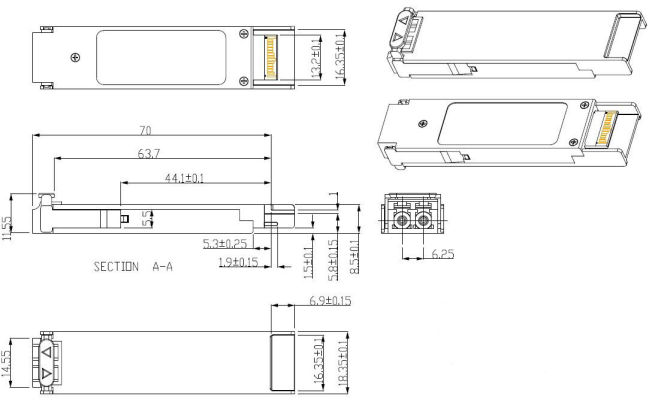 All optical transceivers are RoHS compliant and could be 100% compatible with branding equipment, such as Cisco, Extreme, Juniper, HP, H3C, Linksys, Huawei, Alcatel-Lucent, Foundry, Nortel, Force10 etc.
If you want to know more about the exact information of the specified transceiver or get price, Please Contact Us>>.