As the need for information is increasing, the need for bandwidth is also increasing. WDM (Wavelength Division Multiplexing) technology was developed to expand capacity of networks. A WDM system uses a Multiplexer at the transmitter to combine several wavelengths together, each one carry different signal with bite-rate up to 10G and a demultiplexer at the receiver to split them apart. Both Mux and Demux are passive, requiring no power supply.
Classification
CWDM : Coarse Wavelength Division Multiplexer, Wavelength interval is 20nm
DWDM : Dense Wavelength Division Multiplexing, wavelength interval is1.6nm(200GHZ), 0.8nm (100GHZ), 0.4nm (50GHZ)
OADM : Optical Add-Drop Multiplexer
Explanation of related terms
● MUX, optical multiplexing.
● DMUX, optical demultiplexing.
● Single fiber unidirectional, single fiber, unidirectional transmission

● Single fiber bidirectional, single fiber bidirectional transmission.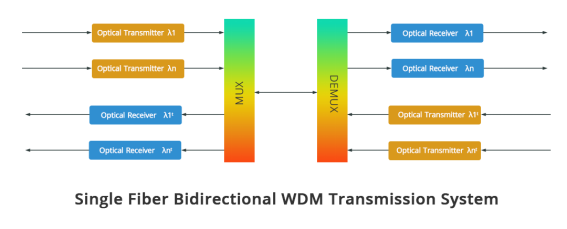 ● Two-fiber bidirectional, two-fiber transmission, two-way transmission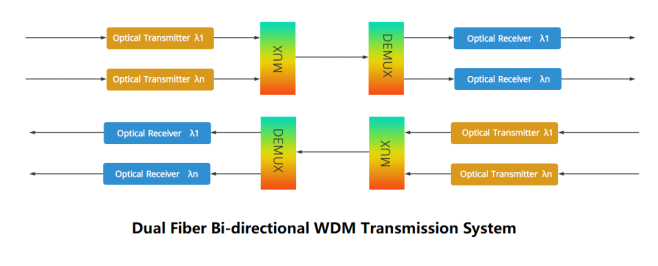 Related port explanation
● UPG upgrade port: Upgrade Port, which can upgrade all wavelengths except the wavelength in use, but the isolation is only Can guarantee> 13dB, for the module of traditional craft, only increase the cost of a connector and adapter;
● EXP expansion port: 1310nm Express Port is an upgrade to a specific wavelength, currently mainly used for 1260~1350nm The band is expanded and upgraded, and the isolation can be more than 30dB, but it not only increases the cost of a connector and adapter, it is a complete channel cost
● MON monitoring port: Monitor Port, which uses the Coupler to take out part of the light to monitor the signal in the link. Learn about the specific splitting ratio over there, generally 1% or 2%.
WDM product series specifications
● The following ILs do not contain connectors, and the connectors are increased by 0.15db/head (generally, the optical path is 2 heads)
● The default is Class A product IL
● Increase mon monitoring terminal, in order to increase 1%-2% coupler, IL increase 0.3-0.35;
● 1:99—22:0.3db;2:98—19:0.35db
● EXP and UPG are both led out from the REF port, no IL and device are added, and no flange is added Increase IL
● Contains conventional CWDM ,DWDM single channel and multi-channel
● Conventional packaging: steel pipe 5.5*38; ABS100-80-10&120-80-18;LGX155.-129 (102)-29; 19-inch chassis 483-200-44mm
Encapsulation
| | |
| --- | --- |
| | |
| Steel Tube Type | ABS Cassette Type |
| | |
| LGX BOX Type | Rack Type |
CWDM
Nowadays there are two kinds of standardized WDM in existence—Coarse WDM and Dense WDM. Defined by ITU-T G694.2, CWDM systems have channels at wavelengths spaced 20nm apart, compared with 0.4nm spacing for DWDM. This allows the use of low-cost, uncooled lasers for CWDM.
A CWDM system can use only 8 channels at wavelengths after 1470nm on older G652 fibers, due to the increased attenuation in 1270-1470nm bands. Newer fibers which conform to the G.652.C and G.652.D standards, such as Corning SMF-28e and Samsung Wide pass nearly eliminate the "water peak" attenuation peak and allow for full operation of all 18 ITU CWDM channels in all kinds of networks.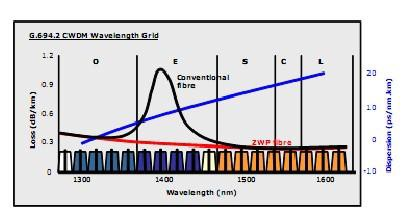 Passive CWDM System
In application, CWDM transceivers are used to transform electronically signal from Routers/switches or other active equipment to optical signal at CWDM wavelength or reversely transform CWDM optical signal to electronically signal. Sopto is your best one-stop source of transceivers and Passive CWDM filters/modules to meet your application.
Features
● Low Insertion Loss
● High Isolation
● Low PDL
● Compact Design
● Wide Operating Wavelength: 1260nm~1620nm
● Wide Operating Temperature: -45℃~85℃
● High Reliability and Stability
Applications
● CWDM System
● PON Networks
● CATV Links
Specifications
Parameters

1x2

1x4

1x6

1x8

1x10

1x12

1x14

1x16

1x18

/

Center Wavelength (nm)

ITU, ITU+1

Passband (nm)

ITU±6.5

Operating Wavelength (nm)

1460~1620 / 1260~1620

1260~1620

Channel Space (nm)

20

Fiber Type

SMF-28e or customer specified

IL (dB) (≤ )(with connector)

1.2

1.6

2.2

2.8

3.2

3.6

4

4.4

4.8

Transmission band

0.6

Reflection band

0.4

Isolation (dB) ≥

Adjacent Channel

30

Transmission band

30

Non-Adjacent Channel

50

Reflection band

12

Ripple (dB)(≤ )

0.3

0.4

0.5

0.5

0.5

0.5

0.5

0.5

0.6

0.3

PDL (dB)(≤ )

0.2

0.1

PMD (ps)(≤ )

0.1

0.1

RL (dB)(≥)

45

Directivity (dB)(≥)

50

Maximum Optical Power (mw)

500

Operating Temperature (℃)

-40~85°

-5~75°

Storage Temperature (℃)

-40~85°

BOX Package (mm)

100*80*10

140*115*18

/

Package Dimension (mm) (Φ*L)

/

5.5*34(250um)

Package Dimension (mm) (Φ*L)

/

5.5*38(0.9mm)

LGX Package

1U, 2U

/

19'' Rack mount Package

1U

/
Notes:
1.With 1310nm port, it is equivalent to adding a channel
2.The IL loss with upgrade port remains unchanged
3.With monitoring port, if 1% split ratio is taken, IL will increase by 0.3dB
4.Single-fiber bidirectional, dual-fiber bidirectional, single-fiber bidirectional solution has nothing to do with IL
5.The above parameters refer to the finished product parameters with connectors
Transceivers
● CWDM 10G XENPAK,X2 and XFP
● CWDM 8G/10G SFP+
● CWDM 1.25G/2.5G/4.25G SFP with or without DDM
● CWDM 155M SFP
● CWDM 1.25G SFP
● CWDM 4.25G SFP
Passive filters/Multiplexers
● 3 ports CWDM filters of full 18 ITU channel;
● Single-fiber single-directional Mux,Demux and OADMs;
● Dual fiber bi-directional Mux, Demux and OADMs
● Single fiber bi-directional Mux, Demux and OADMs
● Mux, Demux and OADMs with industry standard package
DWDM
Features
● Low Insertion Loss
● High Isolation
● Low PDL
● Compact Design
● Good channel-to-channel uniformityl
● Wide Operating Wavelength: 1460nm~1620nm
● Wide Operating Temperature: -5℃~75℃(DWDM Device); -40℃ to 85℃(DWDM Module);
● High Reliability and Stability
Applications
● DWDM System
● PON Networks
● CATV Links
Specifications
Parameters

DWDM Module

DWDM Device

Channel Space (GHz)

100

100

Channel Number

1x2

1x4

1x6

1x8

1x10

1x12

1x14

1x16

1x18

/

Center Wavelength (nm)

ITU Grid

Center Wavelength Accuracy (nm)

± 0.05

Channel Passband (@-0.5dB) (nm)

0.22

Fiber Type

SMF-28e with 900um loose tube or customer specified

IL (dB)(≤)

1.2

1.7

2.3

2.9

3.3

3.7

4.1

4.5

4.9

Transmission band IL (dB)

1.0

Reflection band IL (dB)

0.4

Passband Ripple (dB)(≤)

0.35

0.35

0.4

0.4

0.5

0.5

0.5

0.5

0.6

0.3

Isolation (dB)(≥)

Adjacent Channel

25

Transmission band Isolation

30

Non-Adjacent Channel

40

Reflection band Isolation (dB)

10

PDL (dB)(≤)

0.2

0.1

PMD (ps)(≤)

0.1

RL (dB)(≥)

45

Directivity (dB)(≥)

50

Maximum Optical Power (mw)

300

500

Operating Temperature (℃)

-40~85°

-5~75°

Storage Temperature (℃)

-40~85°




BOX Package (mm)

100*80*10 or 140*115*18

/

LGX Package

1U,2U

/

19'' Rack mount Package

1U

/

Package Dimension (mm) (Φ*L)

/

5.5*34/5.5*38
Notes:
With 1310nm port, it is equivalent to adding a channel
2.The IL loss with upgrade port remains unchanged
3.With monitoring port, if 1% split ratio is taken, IL will increase by 0.3dB
4.Single-fiber bidirectional, dual-fiber bidirectional, single-fiber bidirectional solution has nothing to do with IL
5.The above parameters refer to the finished product parameters with connectors
Passive Multiplexers
● SS-Series Mux, Demux and OADM 100GHz
● DB-Series Mux/Demux and OADM 100GHz
● SB-Series Mux/demux and OADM 100GHz
If you need more customized services, please contact us. Email :[email protected]
Information Download

SOPTO-WDM Networking Solution.pdf