Optical fiber communication is a communication method in which light is used as an information carrier and optical fiber is used as a transmission medium. First, an electrical signal is converted into an optical signal, and then an optical signal is transmitted through the optical fiber, which is a type of wired communication. The light can be carried after being modulated. Since the 1980s, fiber-optic communication systems have revolutionized the telecommunications industry and played a very important role in the digital age. Optical fiber communication has large transmission capacity and good confidentiality. Fiber-optic communication has now become the most important form of wired communication today.
In principle, the basic material elements that make up fiber optic communication are fiber optics, light sources, and photodetectors. In addition to classification according to manufacturing process, material composition and optical characteristics, optical fibers are often classified according to their applications, and can be classified into communication optical fibers and sensing optical fibers. The transmission medium fiber is divided into two types: general purpose and special purpose, and the function device fiber refers to an optical fiber for performing functions of amplification, shaping, frequency division, frequency multiplication, modulation, and optical oscillation of light waves, and is often used for a certain functional device.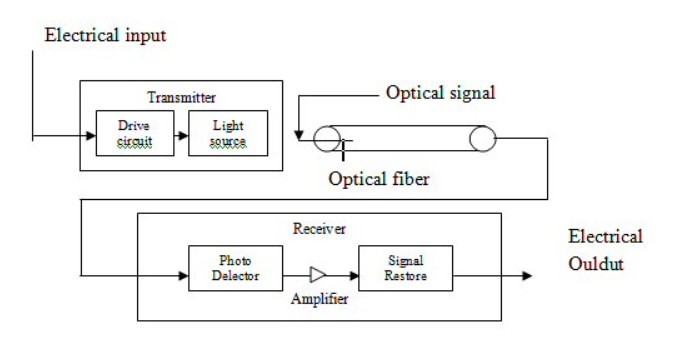 Principle of optical fiber communication:
At the transmitting end, the transmitted information (such as voice) is first converted into an electrical signal, and then modulated onto the laser beam emitted by the laser, so that the intensity of the light changes with the amplitude (frequency) of the electrical signal, and passes through the optical fiber. The principle of total reflection is transmitted; at the receiving end, after receiving the optical signal, the detector converts it into an electrical signal, and after demodulation, restores the original information.
Optical communication utilizes the principle of total reflection. When the injection angle of light satisfies certain conditions, light can form total reflection in the optical fiber, thereby achieving the purpose of long-distance transmission. The light guiding properties of an optical fiber are based on total reflection of the light ray at the core and cladding interfaces, limiting light transmission in the core. There are two types of light in the fiber, namely meridional and oblique rays. The meridional rays are the light rays on the meridional plane, and the oblique rays are the light that is transmitted through the fiber axis.
Tags : optical fiber, fiber
— END —