Singlemode fiber transceivers will work with singlemode fiber, which has much tighter tolerances for optics used. The core is smaller and the laser wavelength is narrower.
The article will introduce it from General Features, Attentions when using Singlemode fiber transceivers and Advantages of Sopto Single Mode Fiber Transceivers.
1. General Feature
● The optics for SMF are twice the cost of MMF optics.
● Working mainly in 1310nm and 1550nm wavelength and is mostly used in long distances transmission environment reaching 2km, 10km, 40km, 60km, 80km and 120km.
● The color coded bale clasp and color arrow on label are generally blue, yellow or purple. And the color of compatible fiber optic patch cord is yellow.
2. Attentions when using Singlemode fiber transceivers
● Ensure that the SFPs in both ends of the fiber patch cord are of the same wavelength. A simple method is that the color of the modules must be consistent.
● In general, to ensure the data accuracy, short-wave SFP modules use with multimode fibers (ie. orange fiber patch cord), while long-wave SFP modules use with single-mode fiber (ie. yellow fiber patch cord).
● Do not over bend or winding fiber optic cables when using them. This will increase the attenuation of light in transit.
● If you don't use the SFP, you must use the dust plug to protect the optical bore.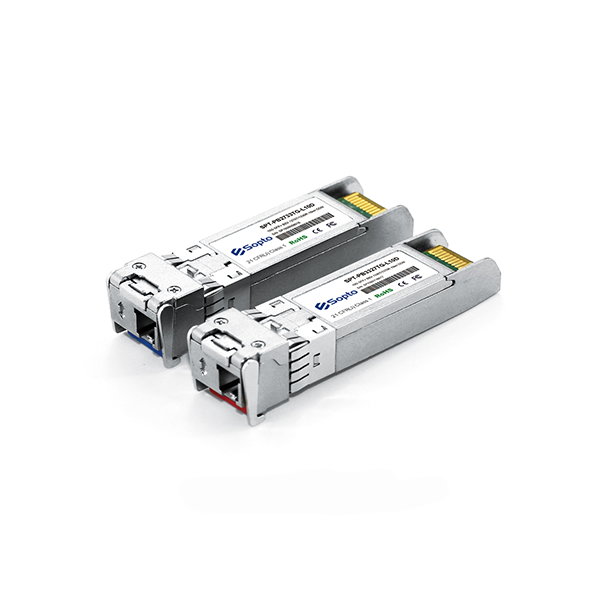 3. Advantages of Sopto 1000base-SX SFP transceiver.
● Dust free factory with reliable workers and Integration of production and testing.
● Professional technician for technical issues.
● Compatible with many brands switches or routers, like Cisco, Hewlett-Packard, Alcatel-Lucent.
● Much cheaper than Original part.
● Timely and Relieved after-sales services.
Besides, SOPTO can manufacture the Cat 5e UTP for the connection of Sopto single mode fiber transceiver
Tags : 1000base-SX SFP , SM fiber modules
— END —